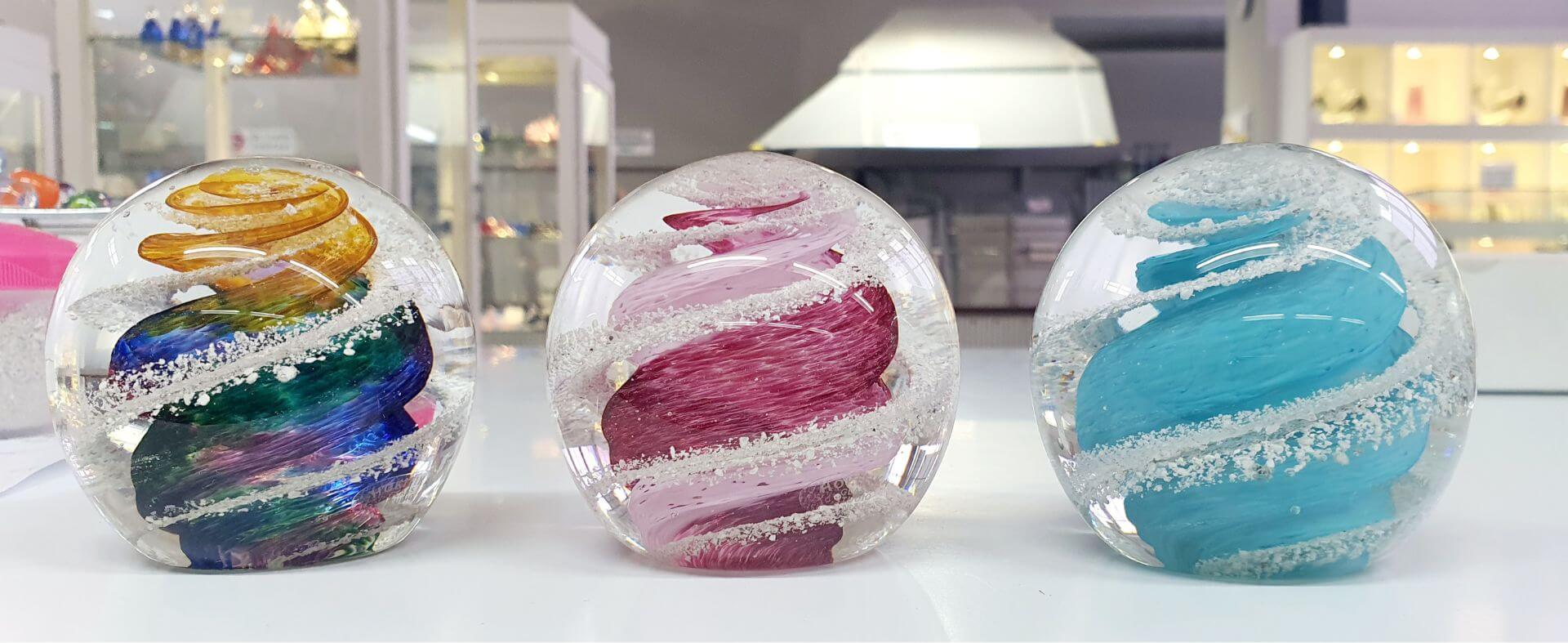 Our Memorial Glass Paperweights encapsulate the cremation ashes of a beloved one or pet to create a timeless memorial which you can cherish forever.
Below is some general information. Please keep in mind – this is YOUR memorial piece, so we can customise it to suit you…ie colour, size & style. Photos below are just a sample of some of the memorial glassware we have made to date.
We require approx. 1 tablespoon of ashes per piece. This can be safely shipped to us in a zip-lock bag, if you are happy to do so. Please label the bag. If ashes are coming from overseas, please include a copy of the death notice.
Photos of some our customers pieces can be viewed on our Facebook page here.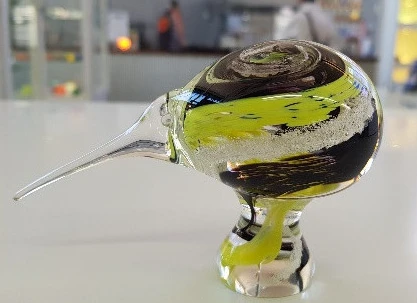 Prices
Sculpture – $350 (approx.)
This is a solid glass heavy oval/teardrop shaped piece which measures approx. 140mm (h) x 85mm (w) x 65mm (d).
Double Koru Paperweight – $210
The double koru inside the globe is covered in the ashes. Measures approx.. 85mm (h) x 70mm (round)
Paperweight – swirl $150
The most common choice – measures approx.. 70mm (h) x 70mm (round)
Paperweight – flower $150
Flower inside the paperweight is covered in ashes. Measure approx. 55mm (h) x 80mm (round)
Mushroom (M2) – Large $140
The clear stem of the mushroom has the ashes swirled through. Measures approx. 105mm (h) x 75mm (round)
Touchstone – Medium $100
The centre colour can be either solid (with ashes on top) or swirled (ashes also swirled through colour). Measures approx. 30mm (h) x 80mm (across)
Touchstone – Small $80
The centre colour can be either solid (with ashes on top) or swirled (ashes also swirled through colour). Measures approx. 30mm (h) x 60mm (across)
Bird (B2) – Large $80
Ashes can be swirled through the colour or placed around the neck. Measures approx. 55mm (h) x 60mm (w) x 90mm (long)
Angelfish (A2) – Medium $80
Ashes will be swirled through the colour in the centre. Measures approx. 75mm (h) x 75mm (long) x 30mm (w)
Kiwi (K2) – Medium $80
Ashes will be swirled through the colour in the centre. Measures approx. 70mm (h) x 55mm (round) x 100mm (long)
Koru – medium swirl $80
Ashes will be swirled through the colour in the centre. Measures approx. 145mm (h)
Please post ashes to:
Hokitika Glass Studio – Memorials
9 Weld Street
PO Box 155
Hokitika 7810
West Coast
New Zealand
If you have any queries, please email us at admin@hokitikaglass.co.nz or phone +64 3 755 7775